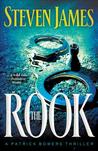 The Rook
by
Steven James
My rating:
3 of 5 stars
FBI agent Patrick Bowers is brought in to consult on a serial arsonist. This is just the tip of the iceberg. Since he thought it would be a quick trip, he decided to bring his step daughter along with him for the break.
They witness the suicide of a homeless man and this sets off a chain of events that keep you on the edge of your chair for the whole book.
A thoroughly satisfying read. I love that there is no profanity, sex, or extreme violence in Steven James books.
View all my reviews